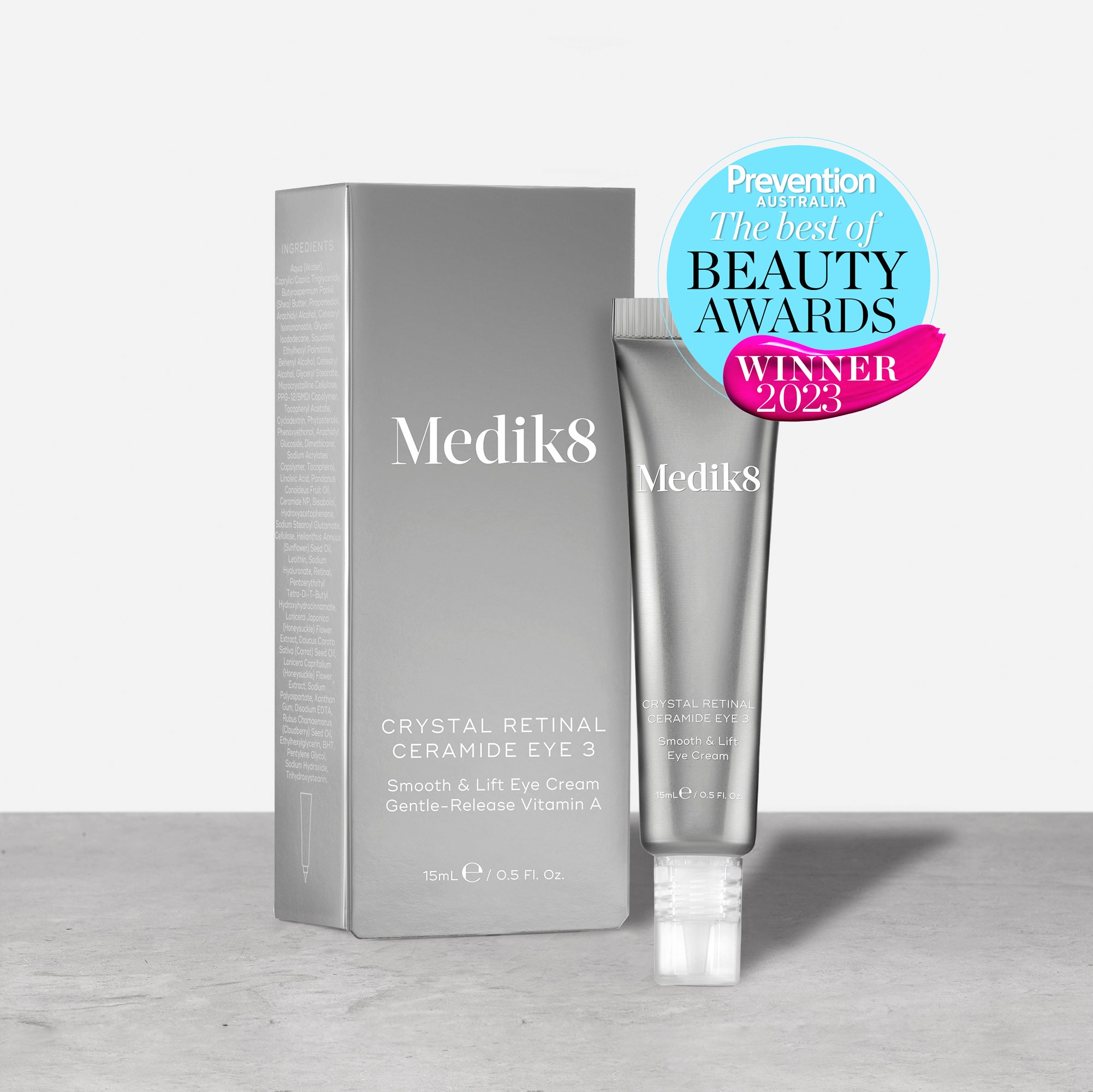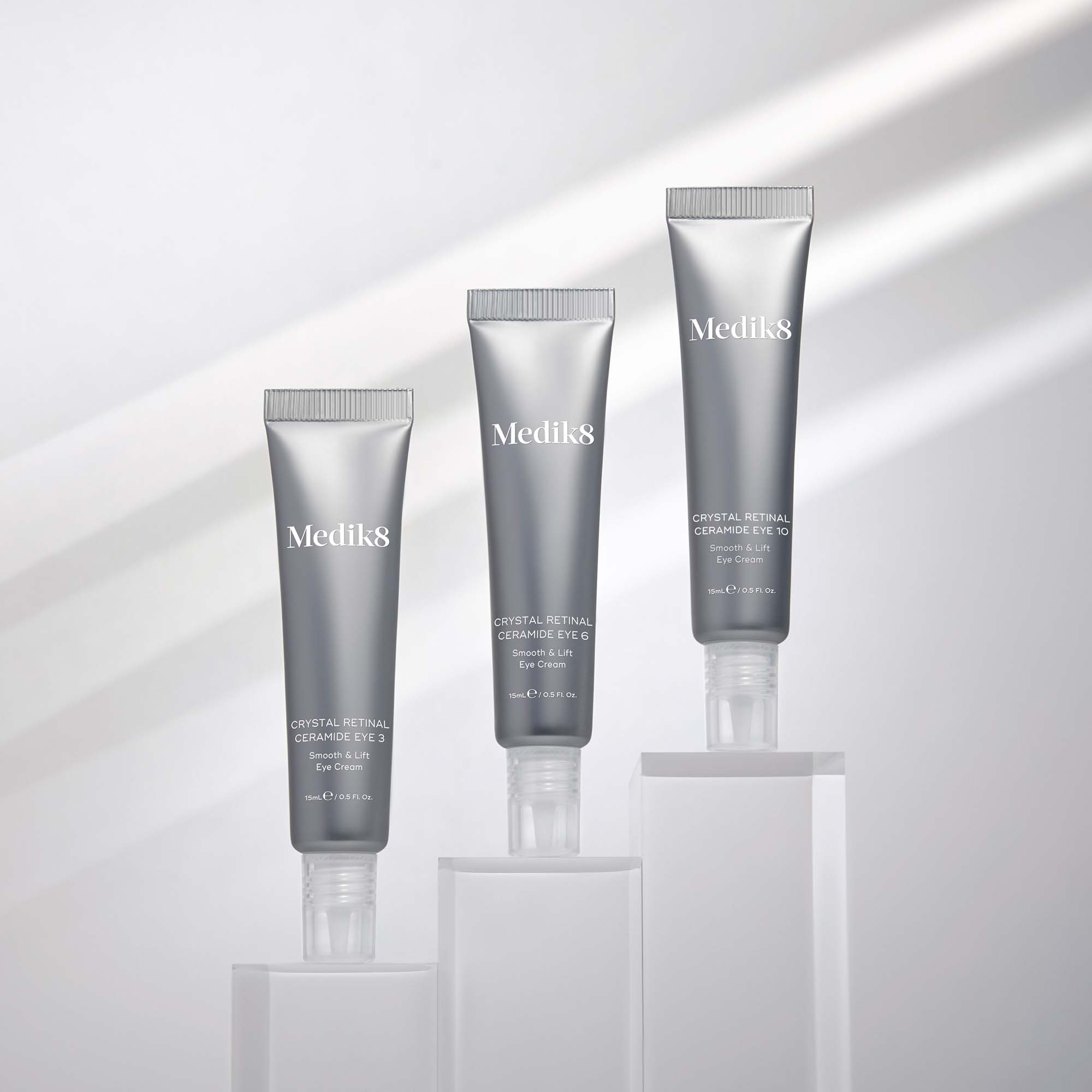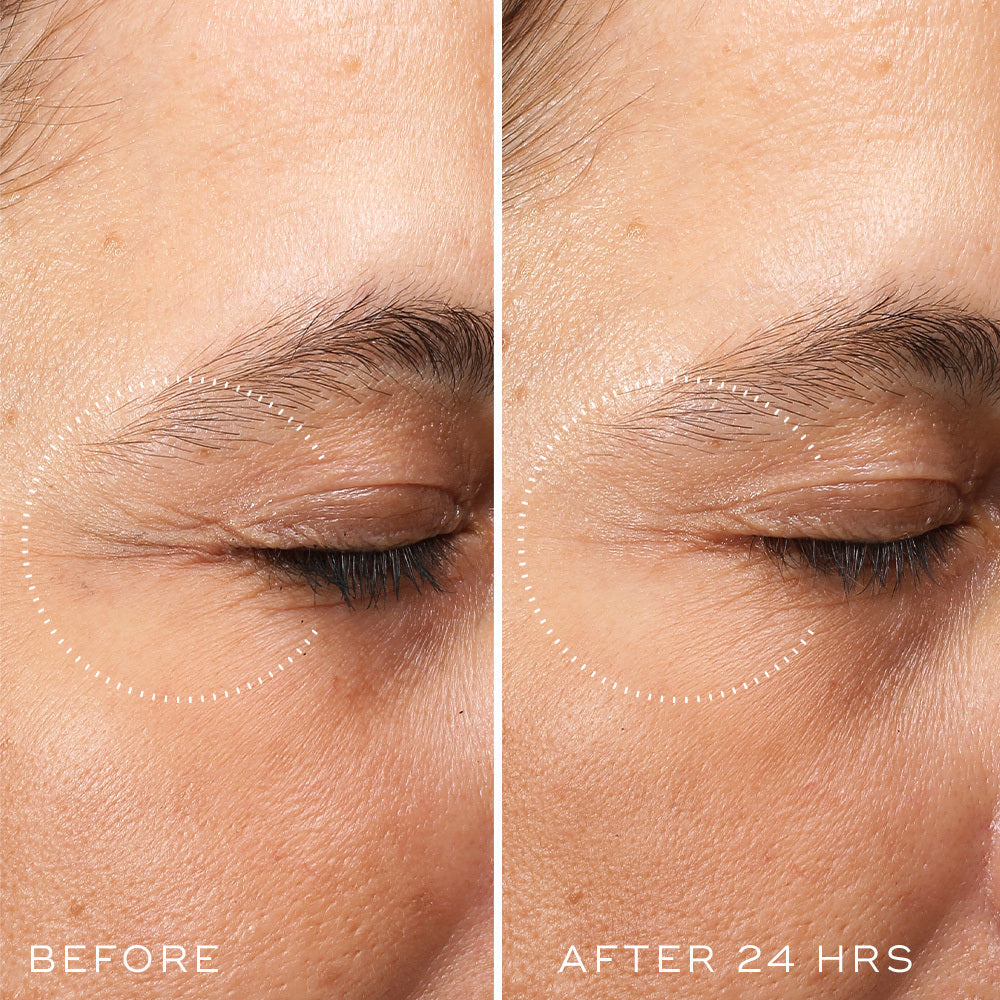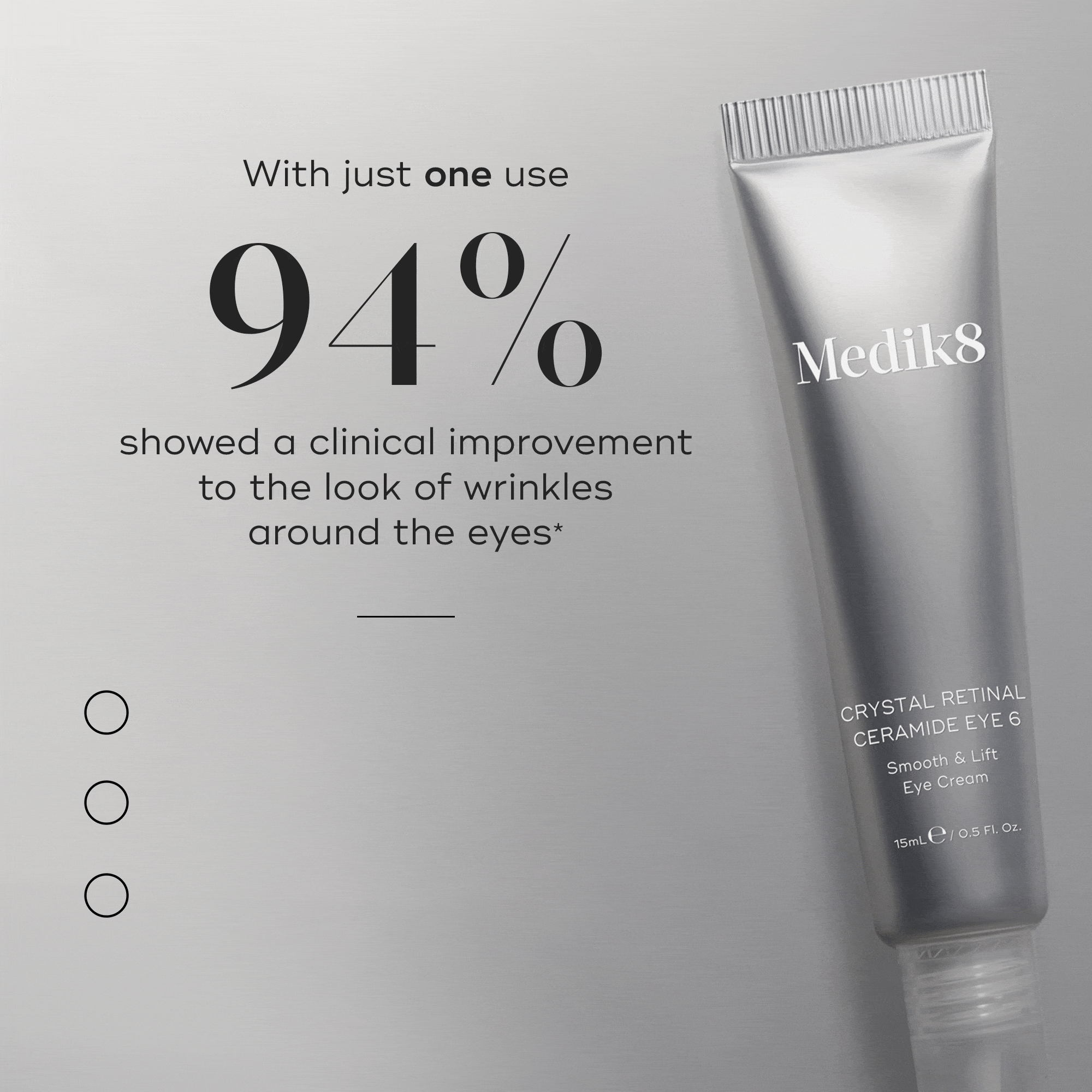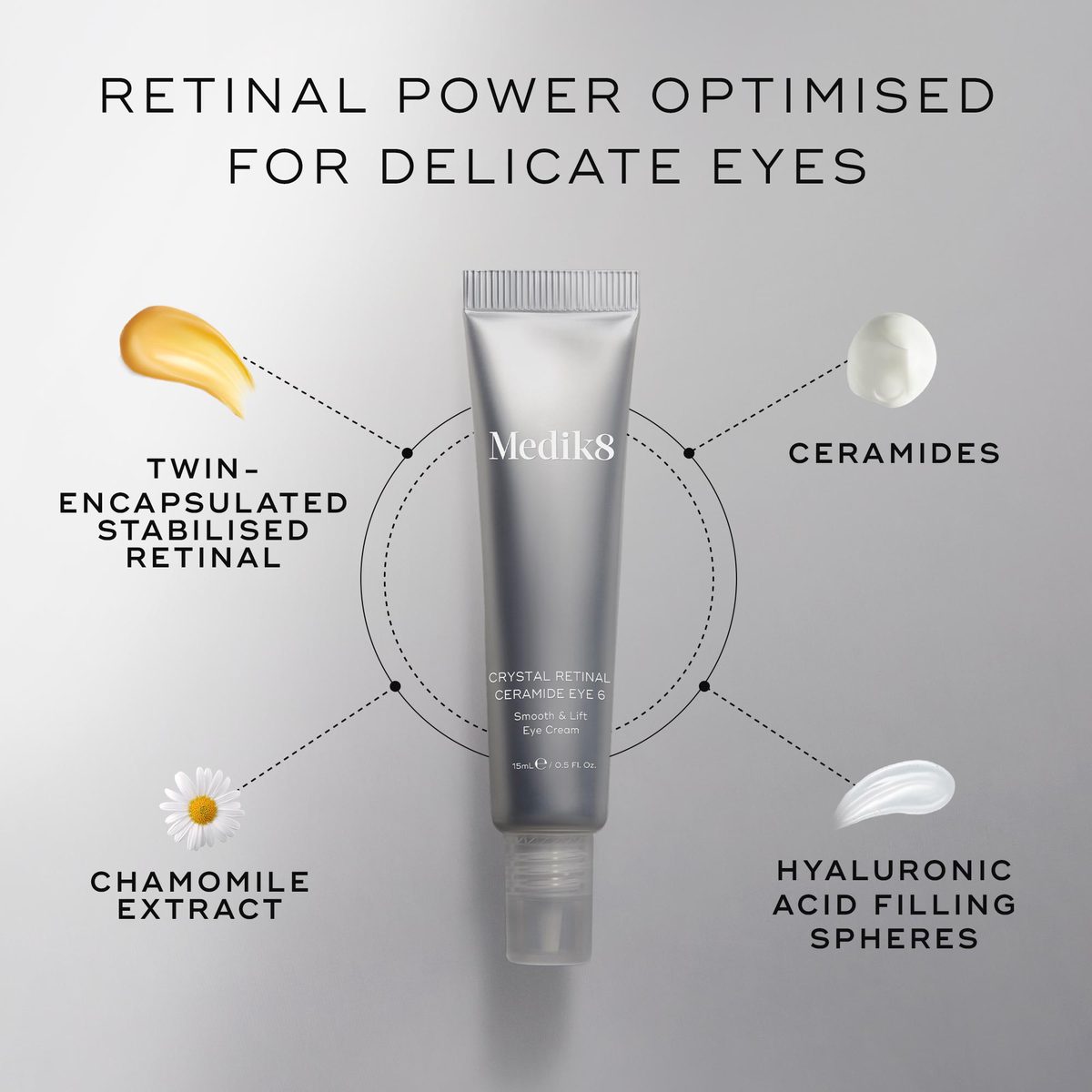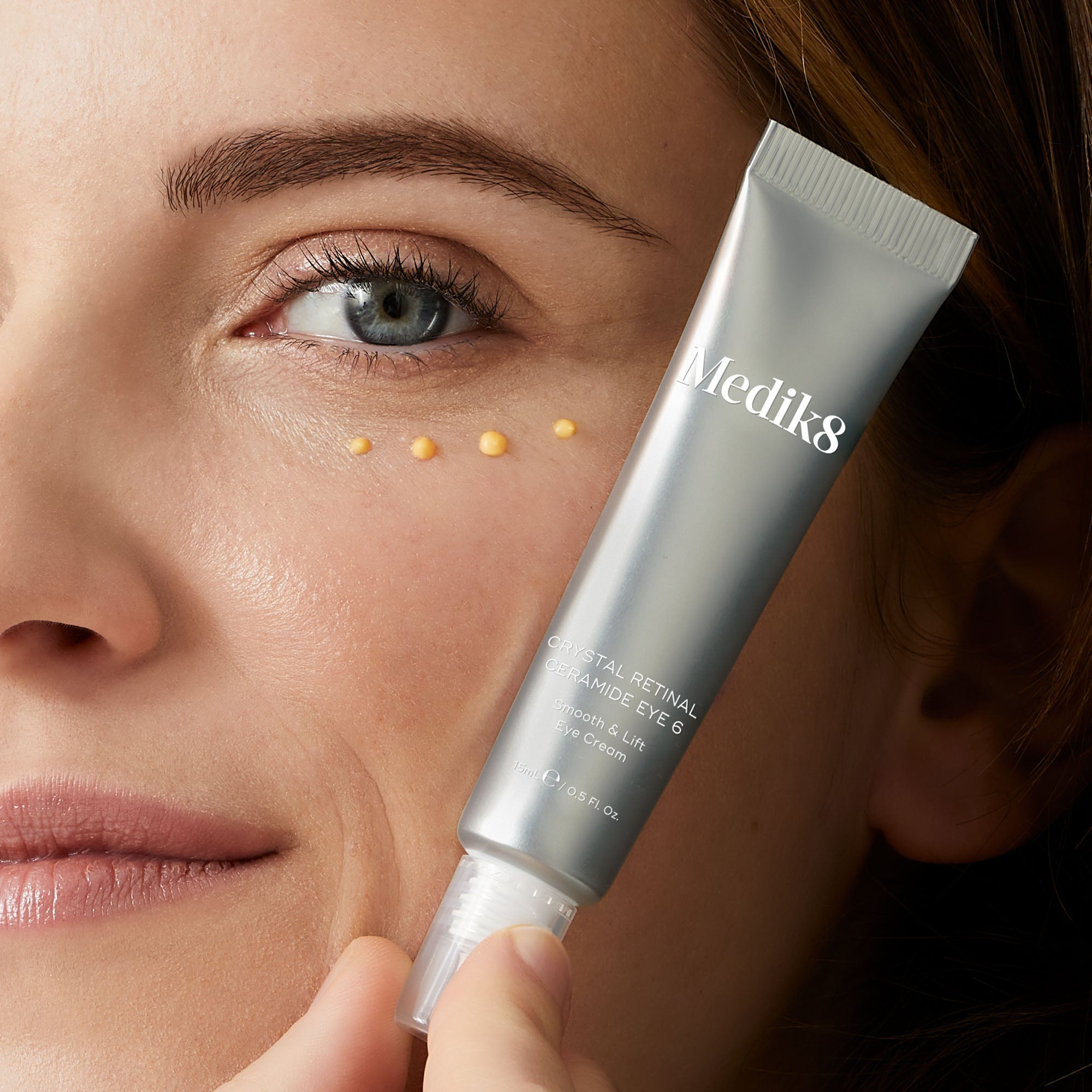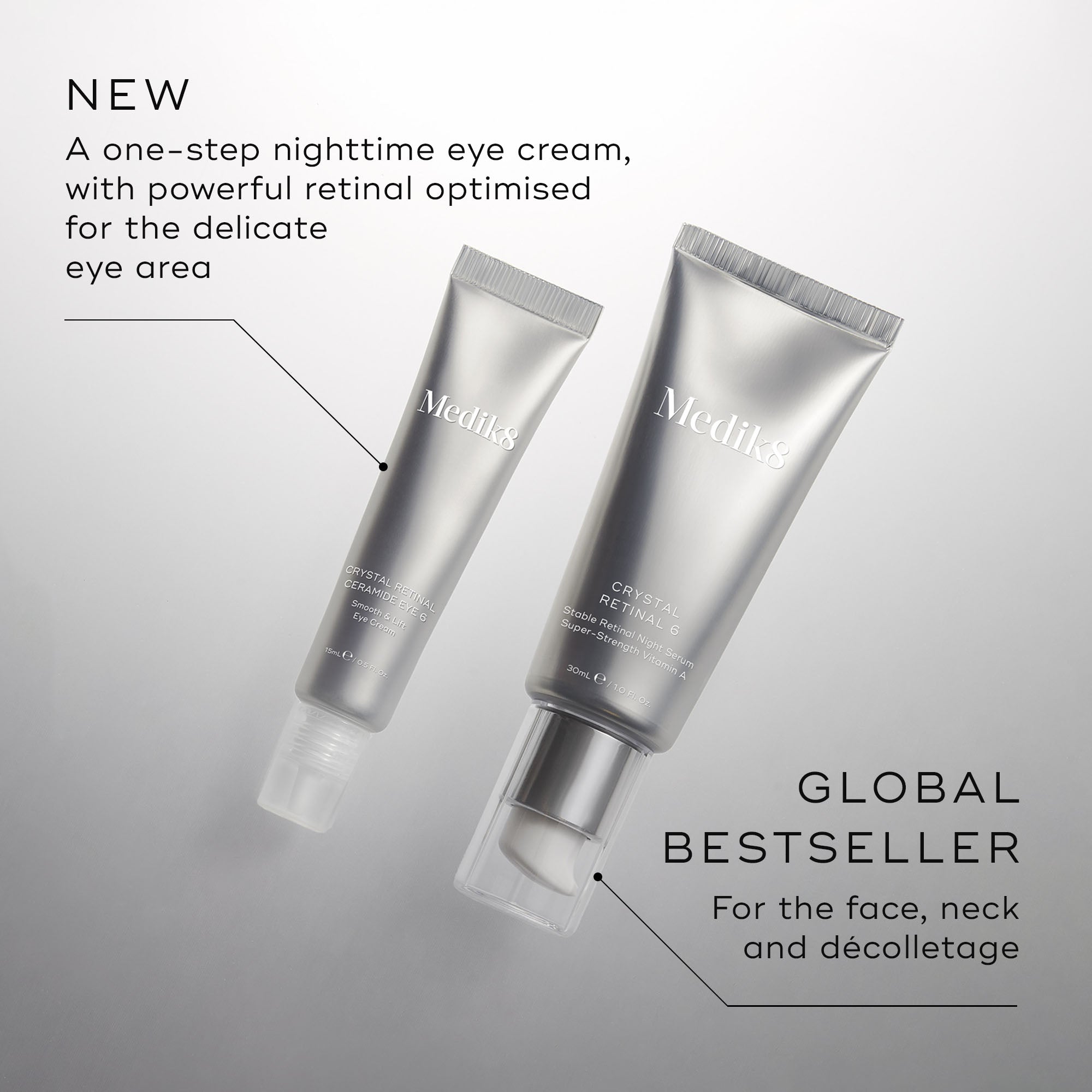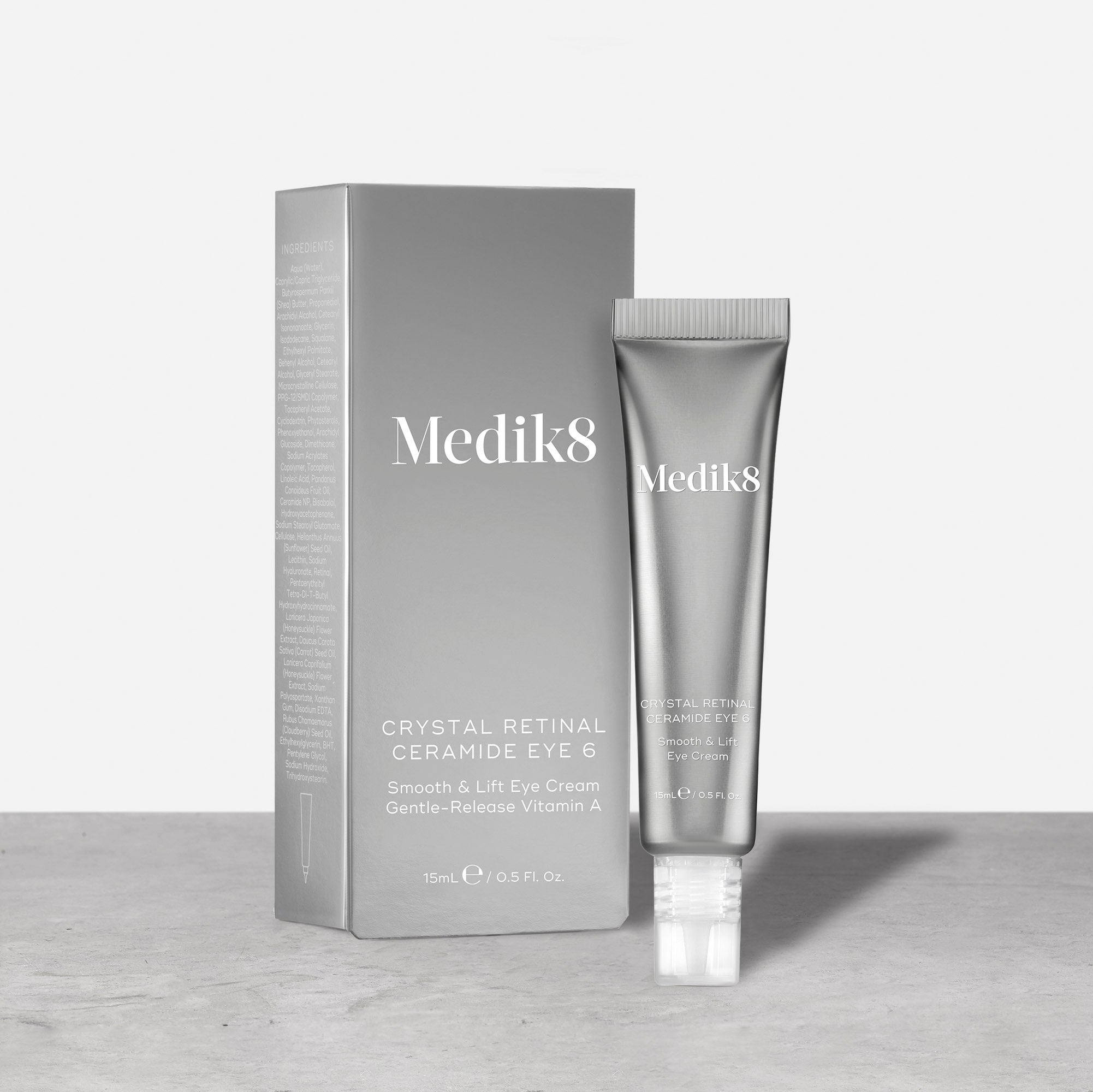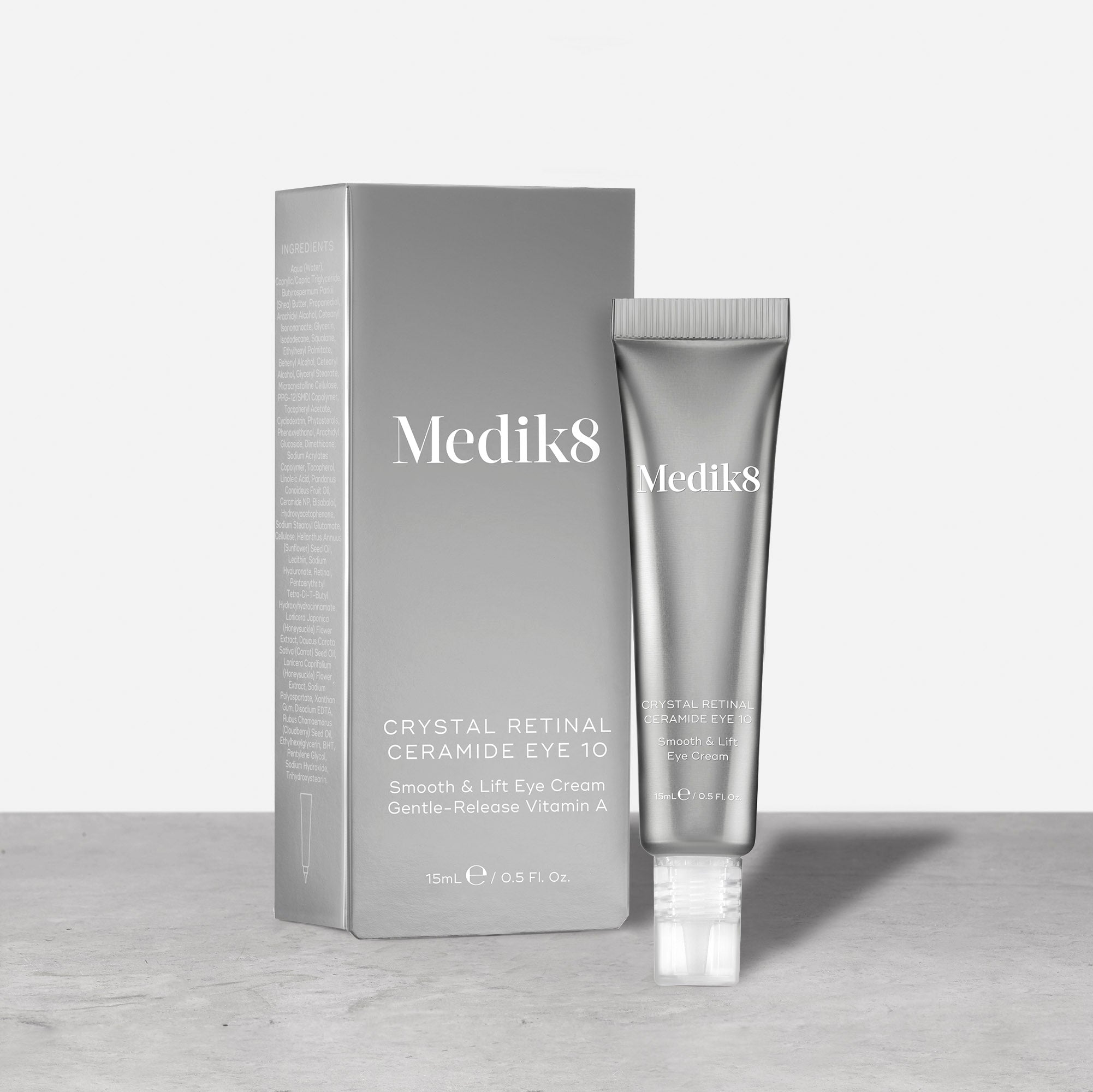 Crystal Retinal® Ceramide Eye
Smooth & Lift Eye Cream Gentle-Release Vitamin A
15ml
KEY BENEFITS

The beautifully lightweight yet nourishing cream is carefully crafted to deliver all-night moisture to the eye area, while remaining gentle on even the most sensitive of skins.

RESULTS

Clinical evidence demonstrates how Crystal Retinal Ceramide Eye can improve visible signs of ageing around the eyes; smoothing the appearance of crow's feet, visibly lifting and de-puffing eye contours and brightening dark circles by morning.

KEY INGREDIENTS

0.03%-0.1% Twin-Encapsulated Retinaldehyde, Patent-Pending Retinal Stabilisation System, Ceramides, Hyaluronic Acid Filling Spheres, Chamomile Extract, Dermatologically Tested, Ophthalmologically Tested
The World's First Clinical Strength Retinal for Under Eyes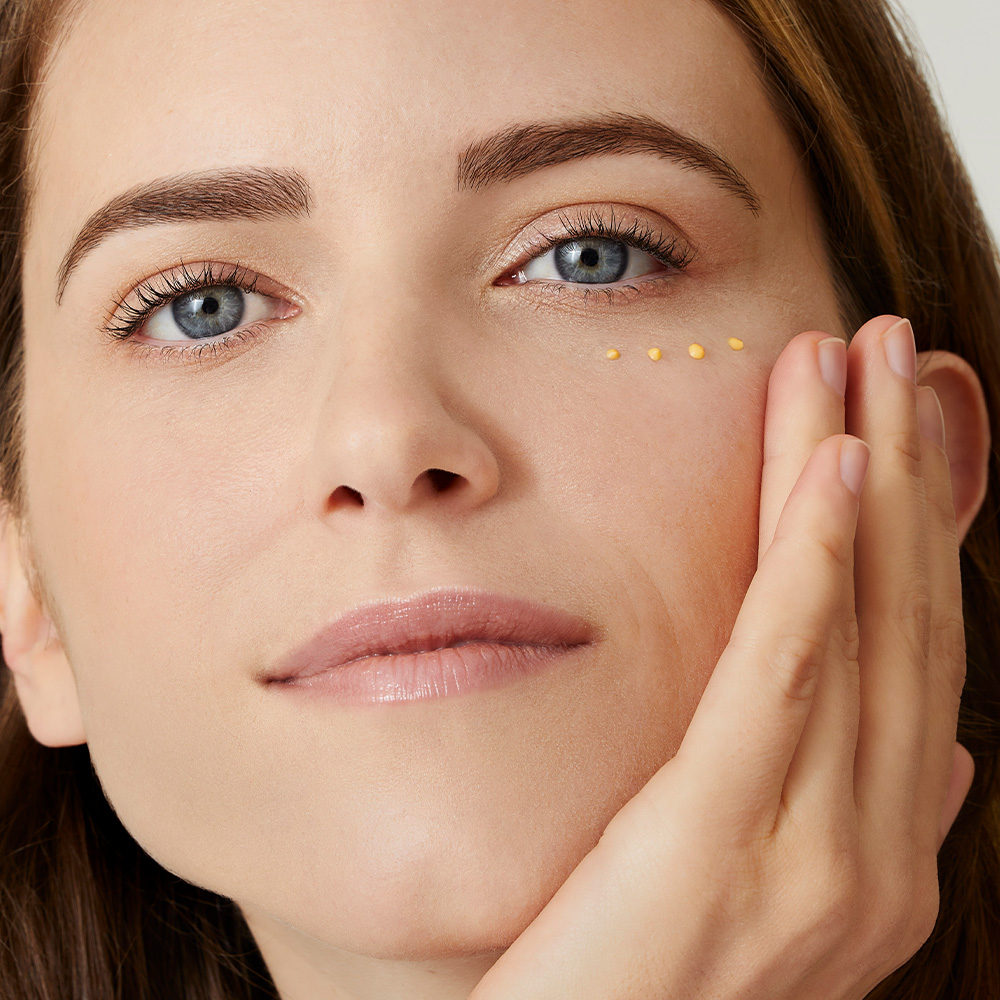 Retinal Power Optimised for the Eyes
Uniquely stabilised for optimum potency, Crystal Retinal Ceramide Eye delivers clinical age-defying results alongside a gentle, nourishing experience for the eyes. Featuring a twin-encapsulation retinal delivery system to produce an ultra-slowed down release of retinal into the skin, to ensure that the powerful formula remains extra gentle on the delicate eye area. 100% of sensitive skins would agree.*
Potent, Progressive Results
Inspired by the original bestseller Crystal Retinal, the eye-specialist cream features the same, unmatched, patent-pending stabilisation system and airless packaging to protect the potency of the retinal molecule for a lasting effect. Crystal Retinal Ceramide Eye also brings our unique ladder of progressive retinal strengths (0.03-0.1%) to eye care to ensure your results always peak and never plateau.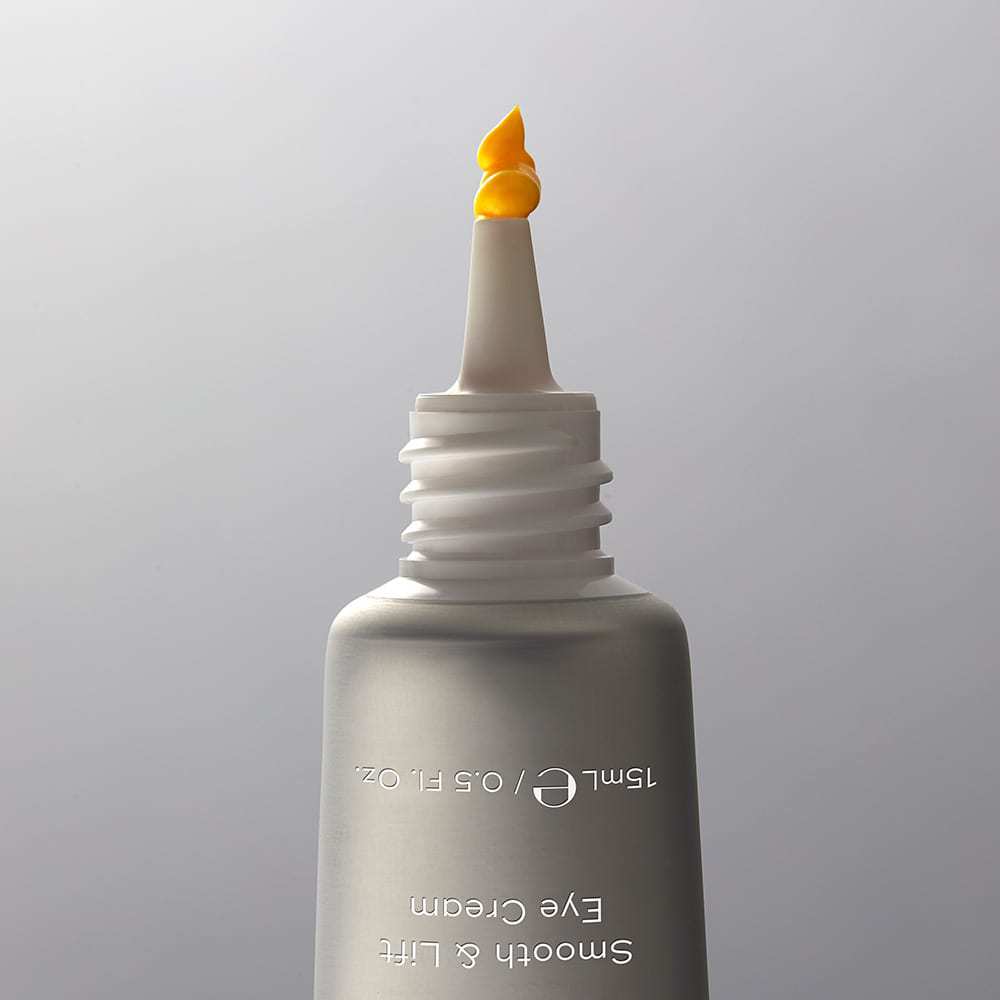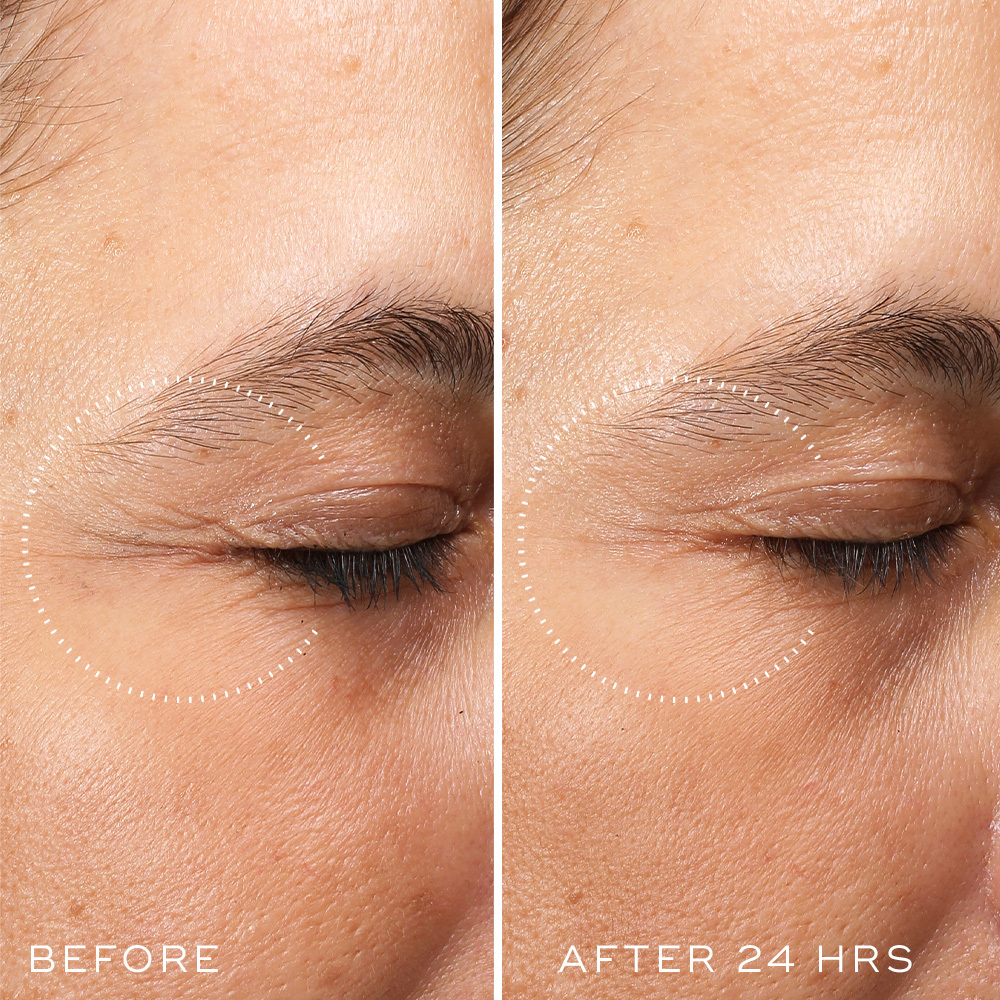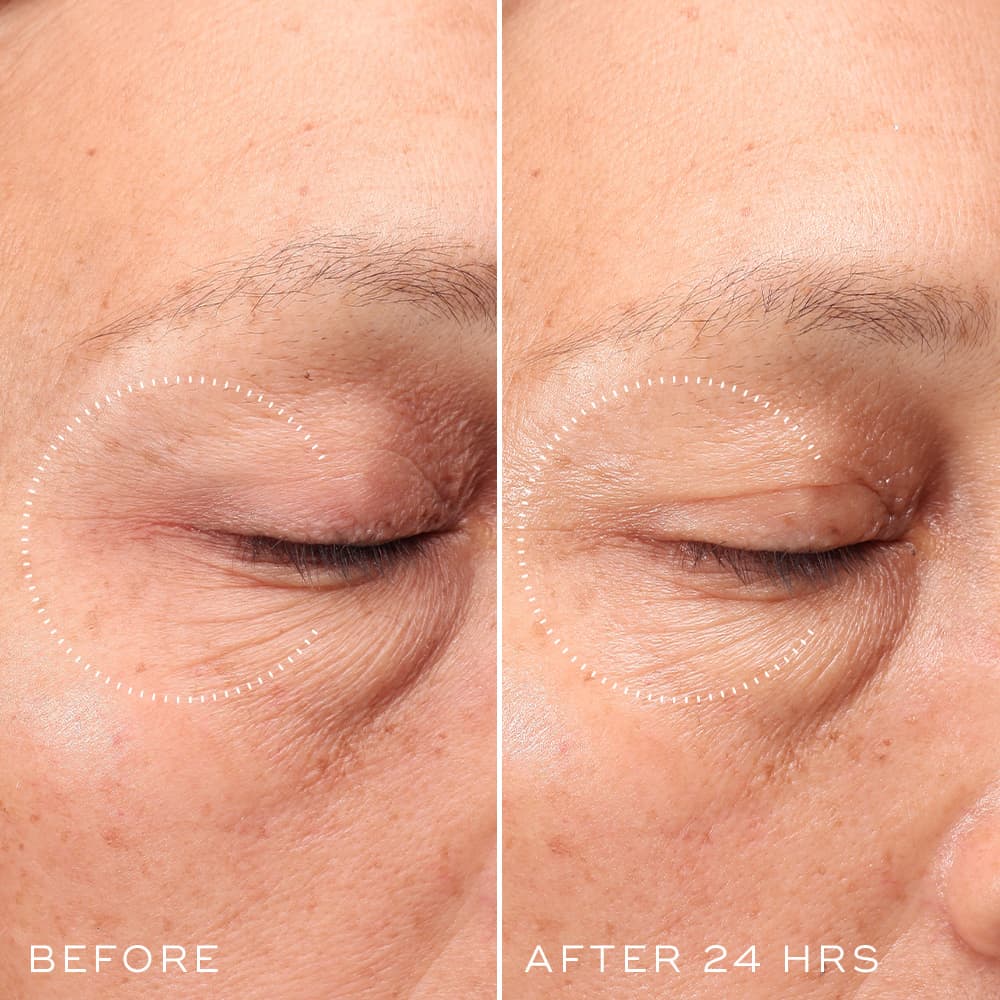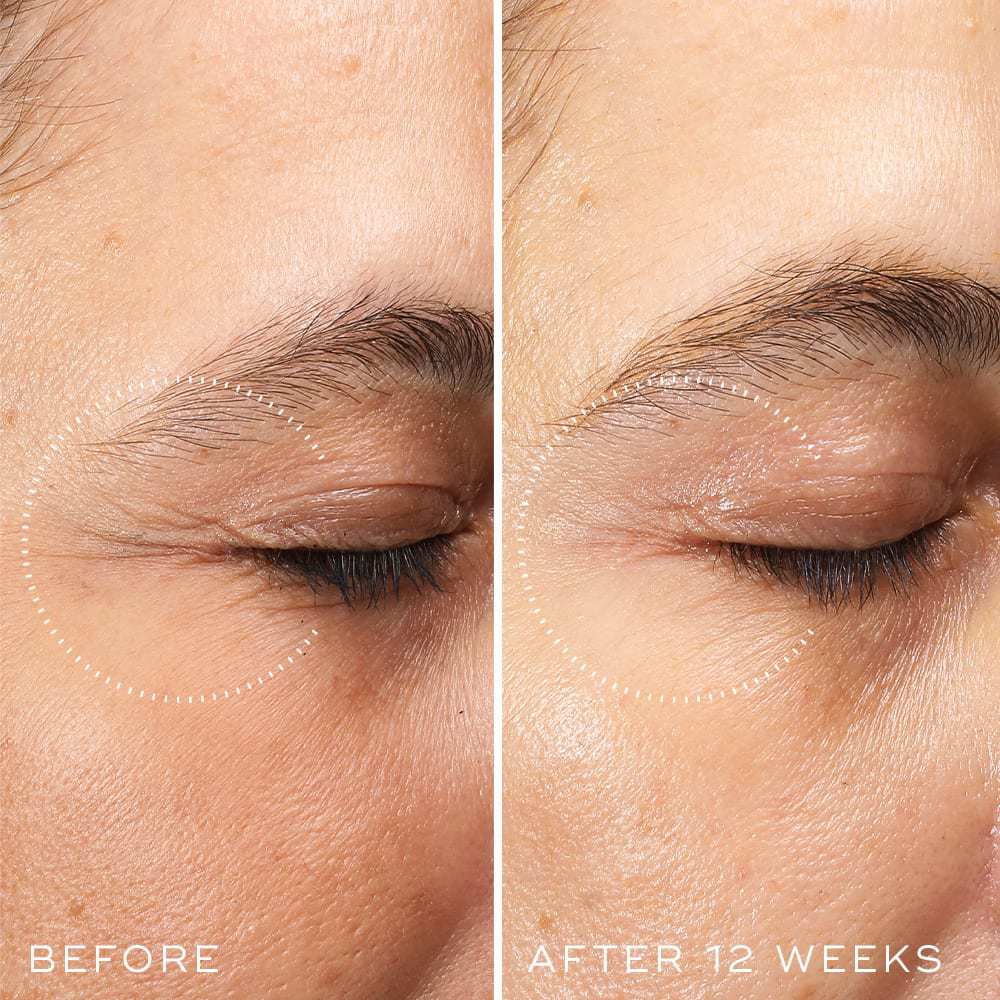 Awaken to Youthful-Looking Eyes
The all-in-one, ceramide-infused eye cream is designed to be everything your under eyes need in your evening skincare regime. Proven to deliver fast overnight plumping results, with visible smoothing of signs of ageing which become more profound over time. 94% showed a clinical improvement to the look of wrinkles around the eyes with just 1 use.**

*Proven via independent consumer study on Crystal Retinal Ceramide Eye 3 conducted over 6 weeks on 50 participants
**Proven via independent clinical study on Crystal Retinal Ceramide Eye 6 conducted over 12 weeks on 32 participants
How to use it
How to Apply

After cleansing in the evening, apply Crystal Retinal Ceramide Eye around the eye area, avoiding eyelids.

Phase-In

Application should be phased in gradually. Use twice a week for the first 2 weeks, every other night for the next 2 weeks, then every night. You should always use a sunscreen in the morning while using vitamin A.

Patch Testing

Patch testing prior to use is advised. Refer to medik8.com.au/patch for an in-depth guide to patch testing.
Key Ingredients
What we choose not to include
NO ARTIFICIAL FRAGRANCE
PARABEN FREE
NO PHTHALATES
ALCOHOL FREE
CRUELTY FREE
Hear from the experts
"Crystal Retinal Ceramide Eye has been expertly optimised for the delicate eye area. We based the formula around twin-encapsulated, stabilised retinaldehyde to ensure ultra-slow retinal release. This mitigates irritation around the very delicate eye area without any compromise on results.

Our progressive ladder system with 3 strengths of retinal allows you to start low and slow, moving up in strength when you are ready to intensify results.

Ingredients such as hyaluronic acid filling spheres and ceramides help to address key concerns around the eyes such as fine lines & wrinkles, working to visibly lift and smooth the look of eye contours.

The formula itself is nourishing yet lightweight and soothing; perfectly balanced for the easily-overloaded eye area. The packaging is also designed to deliver optimised dosage for this sensitive area."

Daniel Isaacs

Director of Research