Experts in Vitamin A
Vitamin A is the gold-standard of anti-ageing. Highly regarded by dermatologists and skin therapists alike, it is second to none when it comes to improving signs of photoageing. As the experts in vitamin A, we understand its exceptional importance in the skin.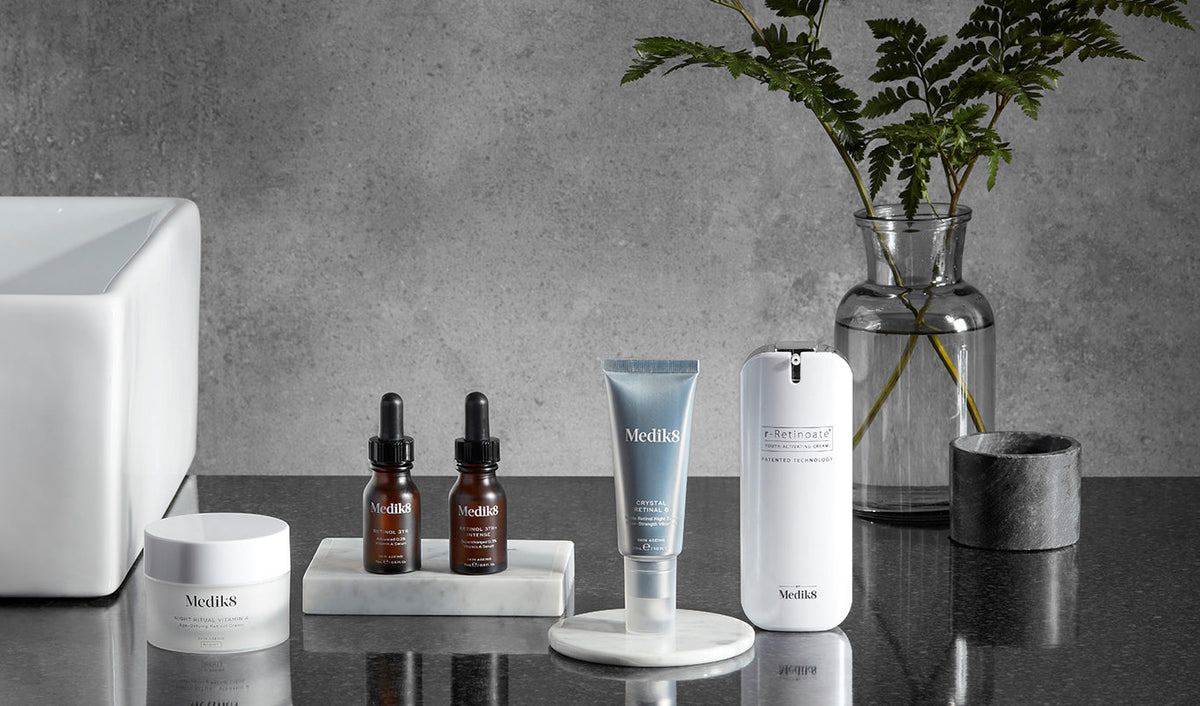 ANTI-AGEING LIKE YOU'VE NEVER SEEN IT BEFORE
Vitamin A is able to stimulate cellular turnover in the skin, pushing fresh skin cells to the surface for a smoother, youthful-looking complexion. This helps to unclog pores for a blemish-free complexion. Vitamin A also enhances collagen production to combat fine lines and wrinkles, and helps block the formation of pigment in the skin for brighter, more even-toned skin.
However, let's just say it… Vitamin A has its issues. When delivered at levels high enough to have a visible effect on skin ageing, it can cause irritation in the form of stinging, redness and peeling. So we decided to do something about it.
The side effects of retinol are often associated with too much of the active being delivered too quickly. To counteract this, Medik8 developed a unique Time Release (TR™) delivery system. All of Medik8's vitamin A serums use the active encapsulated in a micro-fluid or polymer shell. As the serum is rubbed into the skin, the encapsulation breaks down and the vitamin A is slowly released into the skin. This significantly minimises the risk of irritation and ensures that skin benefits are received slowly over a prolonged period of time. We have two types of retinol serum: our original and our intelligent, find out more below.
LEARN MORE
At Medik8, we also recommend that retinol and retinal application be phased in gradually. We have developed a guide that allows the skin to get used to the ingredient (see diagram below).
Medik8 has a range of vitamin A products to suit every skin type and need. We don't use traditional retinyl esters (eg retinyl palmitate) because they are very weak and poorly absorbed by the skin. Instead, we focus all our attention on forms of vitamin A that are scientifically proven to provide great results.
You can be confident that our entry-level vitamin A is better than many competitors' highest level.
SHOP NOW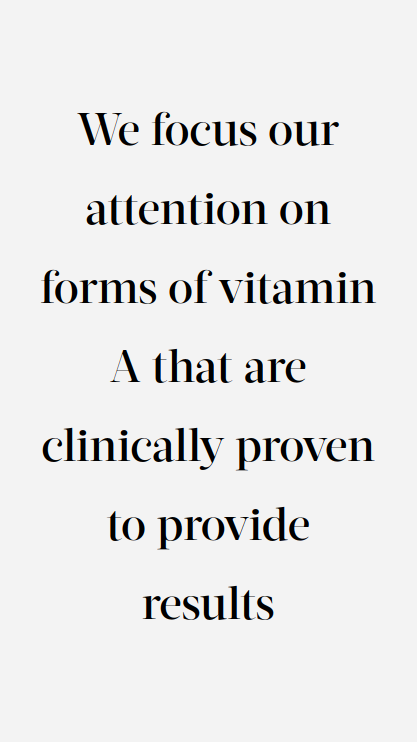 RETINOL
The classic form of vitamin A. Tried and trusted in numerous dermatological journals, retinol is the form of vitamin A that makes the headlines. When retinol is applied to the skin, it undergoes two conversions. First, it is converted to retinaldehyde and then to retinoic acid. Retinoic acid is the active form of vitamin A; the form that can actually be utilised by the skin. It triggers cellular renewal and collagen production to give the amazing effects experienced by retinol users. We have a comprehensive retinol product collection, ranging from Night Ritual Vitamin A™ (0.2%) for absolute beginners, to maximum strength Intelligent Retinol 10TR™ (1%) for experienced vitamin A users. We recommend our Intelligent Retinols (ie the intense formulas) first and foremost as they contain super ingredient, climbazole, that boosts retinol's effects without increasing irritation potential. Read more about them here.
LEARN MORE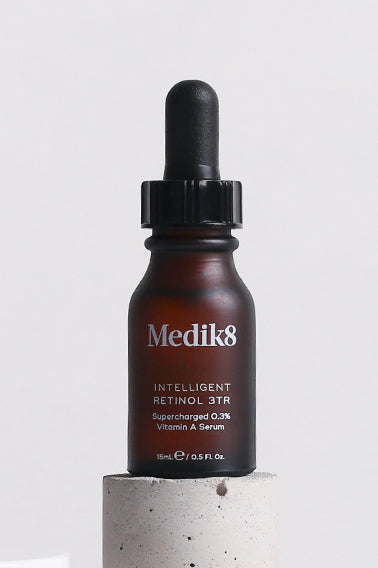 RETINALDEHYDE
With innovation at our core, we just weren't quite satisfied with our range of intelligent retinol serums. We decided to take vitamin A to the next level and introduce retinaldehyde – a next generation vitamin A molecule which is one step closer to retinoic acid than retinol. Delivering results up to 11 times faster than classic forms of retinol in Crystal Retinal™,1 retinaldehyde rapidly resurfaces the skin while helping rebuild collagen. Delivered in a crystal encapsulation system, the active is time released throughout the night. This means retinaldehyde is just as gentle on the skin as retinol, but has effects similar to prescription-strength retinoic acid. Unlike the other forms of vitamin A, retinaldehyde boasts direct antibacterial action, making it the ideal anti-ageing ingredient for blemish-prone skin.
Available in five different strengths, start with Crystal Retinal 3™ to get your skin used to the new vitamin A, using our phase in approach, and then move up to Crystal Retinal 6™ and ultimately Crystal Retinal 10™ if you wish to when your skin is ready. For sensitive skin, we also have gentle-strength Crystal Retinal 1™.
Our highest strength yet Crystal Retinal 20™ is only available through clinics for our most experienced CSA users.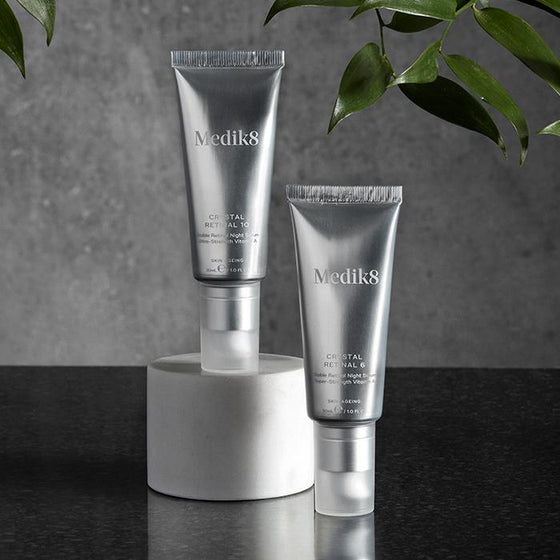 RETINYL RETINOATE
A true breakthrough in anti-ageing skincare, this innovative active was the result of 8 years of research in collaboration with a Korean superlab. Retinyl retinoate is a hybrid molecule which fuses retinol and retinoic acid. Patented worldwide and exclusive to Medik8, this encapsulated new molecule exhibits properties of both source ingredients; improving the anti-ageing activity of retinol without the irritating side-effects of retinoic acid. Found in r-Retinoate®, it increases collagen production and wrinkle repair by up to 8 times more than standard retinol.2 Plus, unlike many other vitamin A derivatives, retinyl retinoate is much more stable in sunlight, meaning remarkably it can be used day and night for accelerated results.
1 G. Seigenthaler et al., Biochemical Journal, 1990, 268, pp 371-378
2 Kim et al., Bioorganic & Medicinal Chemistry, 20018, 16, pp 6387-6393


To find out more about Vitamin A, read our guide here.