Find Your Vitamin A
Vitamin A is the unequivocal gold standard for anti-ageing concerns. Discover its wealth of skin benefits.
As the Experts in Vitamin A , naturally we have a wide range of products in different strengths, using different molecules and at different price points to suit every pocket. Irrespective of the molecule, rest assured that all Medik8 vitamin As are time release, analytically tested for stability, vegan-friendly and sustainable so you are assured of the very best possible experience no matter which one you choose. We have options for the face and the delicate eye area. We only use those vitamin A molecules with strong proven scientific evidence, so get ready for visible results.
Meet retinol and retinaldehyde. Which one will you go for?
Vitamin A not for you? Why don't you find out about our Vitamin A alternative? Bakuchiol Peptides.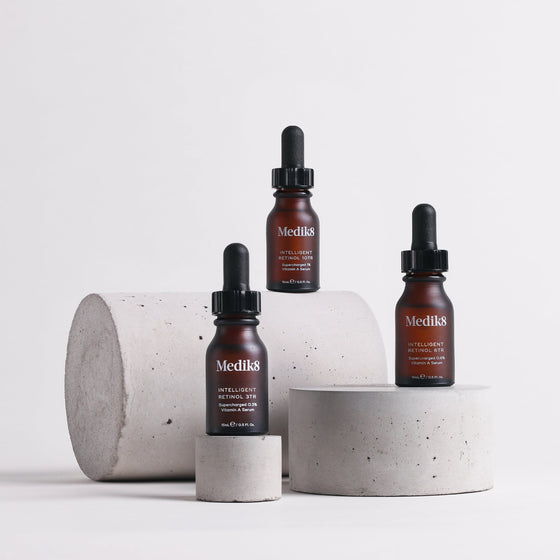 RETINOL
The Classic Vitamin A
Medik8 'Intelligent Retinols' contain wonder ingredient, climbazole. Mimics a higher % of active power. But no further sensitivity.
From $76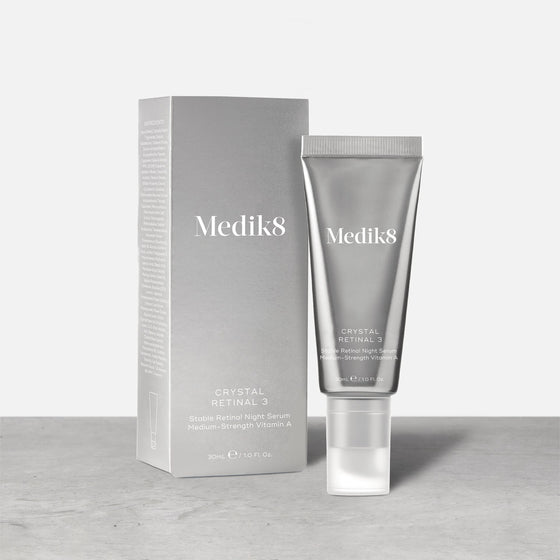 RETINALDEHYDE
The Everyone Vitamin A
Retinal is better and faster than retinol. Enjoy results akin to prescription strength vitamin A, without the prescription or the irritation.
From $85
Different Forms of Vitamin A Explained
Our Frequently Asked Questions
I've been using vitamin A before from another brand, what should I move onto in Medik8?
As a general rule we say start on 1 strength lower than you were using from another brand. Unfortunately we do not know how stable the other brand's retinol serum was; what was labelled as 1% retinol may actually be equivalent to a much lower concentration of retinol if it has degraded. Therefore, to stay on the safe side, we would recommend going lower in strength with our stabilised vitamin A serums to ease your skin into using them, and avoid irritation.
If retinol:
What percentage of retinol were you using in the other brand?
Don't know - start on Retinol 3TR
0-0.6% - start on Intelligent Retinol 3TR
0.7-1% - start on Intelligent Retinol 6TR or start on Crystal Retinal 3
I am using a Medik8 Intelligent Retinol serum - how do I switch to Crystal Retinal?
In general we recommend that new users of Crystal Retinal start with Crystal Retinal 3. This is an effective, but relatively lower strength of retinaldehyde, to give your skin an opportunity to adjust to the new vitamin A molecule. There are a couple of exceptions depending on which retinol product you are currently using. Here is our guide:
If you have very sensitive skin -> Crystal Retinal 1
Night Ritual Vitamin A -> Crystal Retinal 3
Intelligent Retinol 3TR -> Crystal Retinal 3
Intelligent Retinol 6TR -> Crystal Retinal 3
Intelligent Retinol 10TR -> Crystal Retinal 6
I've never used vitamin A before - where do I start?
At Medik8, we use three forms of Vitamin A: retinol, retinaldehyde, retinyl retinoate (not available in Australia). You can start with any one of these molecules. We'd always recommend incorporating your vitamin A into our wider CSA regime - so pick a vitamin C and sunscreen for day also to really amplify results.
When do I have to phase vitamin A into my routine?
Every time you start on a new molecule of vitamin A (eg. switching between Intelligent Retinol and Crystal Retinal). You do not have to phase in when moving up strength in the same vitamin A ladder (eg. moving from Crystal Retinal 3 to Crystal Retinal 6).
Examples:
If moving from Intelligent Retinol to Crystal Retinal - phase in
If moving from Crystal Retinal 3 to Crystal Retinal 6 - don't need to phase in